January 27, 2011
Wild Libraries I have known: Spadina Road (TPL)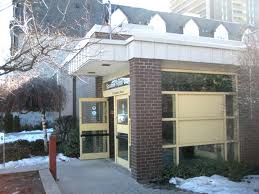 I once wrote a love letter to the Spadina Road Library, when I was coming out of the throes of the post-partum life and incredibly grateful for how the library and its staff had supported me through that period. Eighteen months later, I think I can address the subject with the benefit of perspective, and I say this: If not for the Spadina Road Library, I would be dead, or something very close to it.
Self-serve checkout machines are being installed at libraries across the city, and it makes me sad when I remember the days when the Spadina Road libarians were the only human beings I spoke to. And I pity the poor library patron in the throes of her own personal something who has to make do with a device that scans and beeps, instead of the lovely men and women who recognized me, asked me how my day was going, told me that my acne-covered pickled pig of a newborn was adorable. The library became my destination in an otherwise aimless life, and it meant everything to me.
These days, my local library branch has become a portal to the world, the hub of my community. And living in a city of millions, community is so very precious, so hubs like this are terribly necessary (and take note, Toronto City Council. Every penny you spend on your library system builds a better city). When I go to the library, I run into friends from the neighbourhood, I meet the new friends we've made through the library's children's programming, I pick up the books I've reserved through TPL's inter-library system which are delivered like a miracle to a patron's local branch. I meet the librarian who I continue to credit with teaching me to engage with my newborn through songs and games, which can't help but be the reason for how well we're doing today. We may see Cindy working at the reference desk, who is only the fourth person in the entire universe that Harriet refers to by name (after Mommy, Daddy and Elmo). We check out CDs and DVDs, and browse the stacks for picture books, and cookbooks, and guidebooks for our upcoming trip to the UK.
The Spadina Road library has become a second home, and we're not the only ones, because our little branch is always busy with school groups visiting, patrons using the internet, people studying, kids playing, people seeking information all of kinds, and also, yes, a few desperate people (like I once was) seeking a touchstone, the sound of a human voice, and never failing to find one.