January 20, 2011
The kids books we've been enjoying lately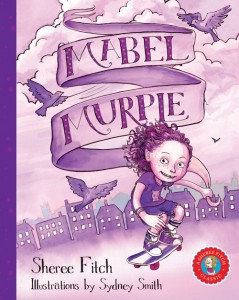 "There's no doubt that the young adult novel is Fitch's true metier", writes Deirdre Baker in her Toronto Star review of Sheree Fitch's latest book Pluto's Ghost, and I have no truck with that, because in our house Fitch is queen of the board book (we discovered her via Kisses Kisses Baby-O), but her picture books own our hearts as well. In particular Mabel Murple, which is the reason  my daughter knows at least one colour. First published in 1995 and recently re-issued with vibrant new illustrations, Mabel Murple is the tongue-twisting story of a purple girl, all dreamed up. A skateboarding scallywag, skiing speed demon (on purple snow) with a purple teddy bear called Snickernickerbox (and he snores). A story of merry motorbiking through muddy purple puddles, and a delectable-sounded condiment called Mabel Murple's purple maple syrple. A whimsical singsong, adored by everybody in our family.
I recently checked out Mem Fox's website, and found out that she'd been to dinner at Judith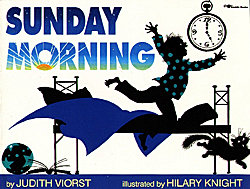 Viorst's not too long ago, and the idea of such a dinner party makes me a bit in love with the whole wide world. I've been getting a similar feeling from Viorst's book Sunday Morning for ages now, with its amazing silhouette drawings by Hilary Knight. The drawings are what Harriet likes best about the book, and how she can pick out the cat and owl, and see all the rooms in the house at once with the fourth wall removed. She doesn't get the jokes and the mischief yet though, which are my favourite parts. The boy who wakes up his brother with the noise like a soft machine gun, and how he walks around the house saying, "God, I'm hungry. God, I'm hungry," because there are no grown-ups around to tell him not to say god. The fights with his brother, which are settled with a karate chop, and how they use their mother's dress from the hamper to sop up spilled milk.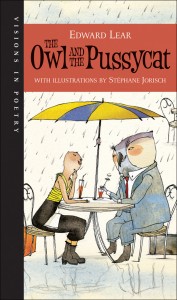 The Owl and the Pussycat with Stephane Jorisch's illustrations is deeply weird, and weirdly imagined. Tough cat arrives from the wrong side of the tracks, and masses look on with stone faces, mostly because they're all wearing masks. The owl and the pussy cat are oblivious to the spectacle they are, and decide to be married for too long they have tarried. Sailing away to the land where the bong trees grow, they finally find a place where a pairing such as theirs is accepted, and they end up dancing by the light of the moon, the moon, the moon. These illustrations are just subtly sinister enough that a child will never stop being fascinated by them, but they'll also never be entirely sure why they are.
Finally, we love, love Elephant and Piggie. So does everybody, of course, but better late to the party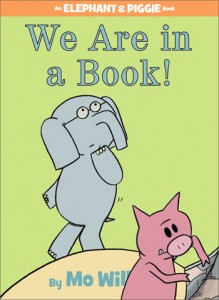 than never. The latest in the series We Are in a Book (which I discovered via Nathalie Foy) does not disappoint. Gerald is thrilled to discover that he and Piggie are actually in a book ("That is so cool!") until he learns that the book will end. That all books end. So together, he and Piggie come up with a plan to prolong their metafictional existences. It's wonderful, and Harriet finds the simple language and exaggerated gestured in the illustrations absolutely hilarious. Stuart and I have about as much fun reading this to her as she has listening to us.