January 3, 2011
Canada Reads Independently Spotlight: Be Good by Stacey May Fowles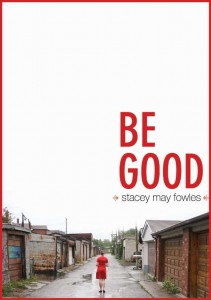 Stacey May Fowles, with her first novel Be Good, has a kind of become shorthand with Canadian critics for a new direction in Canadian Literature. No longer are we all languishing on the prairies, dying in childbirth as lightning strikes the barn and fries our last remaining cow, Fowles' characters are unabashedly contemporary, her stories set in urban places, and usually have adjectives applied to them like "gritty", "edgy" and "real".
Though Robert J. Wiersema finds her work has precedent in his Canada Reads Independently pitch:
Fowles' prose is reminiscent of [Raymond] Carver's, almost clinical in its precision, not cold but incisive.  Its starkness, and her frequently brutal insights, underscore a novel that is relentless in its pursuit of hard emotional truths.  What does it mean to "be good"?  What does it mean to be a friend?  Where does one find meaning in a world seemingly devoid of significance? And what of love?  In a way, Be Good revolves around love, about its levels, its possibility, its risk, and its impossibility.
Wiersema explains that the novel, which focuses on "a loose constellation of twenty-somethings…  doesn't so much unfold as it does explode in a narrative-impressionist flurry, jumping from Montreal to Vancouver, from character to character, across time and meaning.  The initial sense of flurry, however, only momentarily obscures a tightly organized, thematic- and character-driven work which builds through pain and doubt and fragile joy and sexual violence to moments of catharsis and heartbreak."
A review in Prairie Fire called Be Good "vividly authentic", and Quill & Quire reported that "the novel offers a thoughtful examination of sexuality, relationships, and what it means to tell the truth." At the TINARS site, Fowles has compiled a Be Good playlist (along with an interview). Fowles has already had some Canada Readsish experience, as Zoe Whittall defended her second novel Fear of Fighting for Canada Also Reads last year (which led to me reading the book a few months later). Read more about Be Good at Fowles' 12 or 20 questions interview (including, "In Be Good I really wanted to focus on place as a character so really investigating geography was imperative to that. After all the lonely city living I've experience I've become mildly obsessed with what the urban landscape can do to a person.")
Be Good has a Joan Didion epigraph, which means either I'm going to love it or really hate it. I've already become quite fond of the novel's design, however, and if its contents end up being anywhere as well-executed, it's probably going to be the former.