December 29, 2010
Comfort and Joy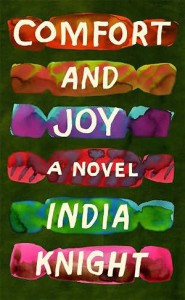 One of the reasons I've had such a lovely holiday (which I'm still having, actually) is that I received India Knight's new novel Comfort and Joy, freshly imported from the UK. A fortunate thing, because it's a Christmas book, and it would have been strange to read it in April or October, but to spend Christmas and Boxing Days stuck between its covers was absolutely perfect. Not least of all because its covers are so lovely– designed by Leanne Shapton of Important Artifacts… fame. And oh golly, those endpapers with sprigs of holly. Of course the story too, and I love all of India Knight's work, and how she channels Nancy Mitford, comic fiction at its finest, her self-conscious send-up of the English middle class, and that her novels read like her newspaper columns but all spliced together. Referencing Barbara Pym on one page, and Grant Mitchell on another, and I'm not sure the world gets more perfect than that. I thoroughly enjoyed this novel.
I received a few other books for Christmas (Started Early, Took My Dog, The Torontonians, Pleased to Meet You) but I'm saving these for the New Year. In the meantime, I am reading up the unread books on my shelf that are unpressing and therefore I might never get around to reading ever. And this has been a most rewarding experience– it's why I read Our Spoons Came From Woolworths, and then Andrew Pyper's amazing Lost Girls, Almost Japanese by Sarah Sheard, and Touch the Dragon by Karen Connelly. I'm now reading The Heat of the Day by Elizabeth Bowen, which I've been putting off and putting off, because although I enjoyed The House in Paris last Fall, I also remember that it was difficult and sometimes frustratingly abstruse. Once I've conquered it, however, I am going to attempt to read a little-known work called The Girl With the Dragon Tattoo. But then again, maybe I won't.
In picture book news, we gave Harriet We Are In a Book (An Elephant and Piggie Book by Mo Willems), The Book About Moomin, Mymble and Little My by Tove Jansson, and The Owl and the Pussycat. My life is now officially complete, because a friend gave us The Jolly Postman. Other amazing books include The Quiet Book by Deborah Underwood, the terrifyingly wonderful Mixed Beasts by Kenyon Cox, and But No Elephants by Jerry Smath.
Our days have been a mix of a whole lot of nothing and a whole lot of everything, friends, togetherness, and copious amounts of chocolate. We are infinitely grateful that Stuart now works in an office that closes for the holidays, as everything is better when he is around, and he's around all the time. We are also very much listening to the CDs received in our family for Christmas: Dar Williams' Many Great Companions, The Essential Paul Simon, and Elizabeth Mitchell Sunny Day. Each one is very, very good.