December 21, 2010
Illustrated literary allusions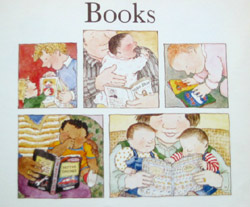 Seriously, my head went on vacation three days ago, so please indulge me a little here. Lately, I've been obsessed with identifying illustrated literary allusions in picture books. The Ahlberg's are all over this, the baby in Baby's Catalogue actually reading his own copy of Baby's Catalogue. Elsewhere in the book, Baby's Daddy is reading old school baby expert Hugh Jolly's Book of Child Care. In another Ahlberg book, the sweet but kind-of-disturbing Bye Bye Baby, the old Uncle is reading an orange Penguin paperback, but no amount of examination has managed to decipher which one.
Harriet and I both delight in Jorge Uzon's Go Baby Go when the baby in the book "reads" Teddy Jam's Night Cars. We also have a book called Book by Kristine O'Connell George, whose illustrations by Maggie Smith show the child clearly reading Richard Scarry's The Bunny Book. Except that Scarry is uncredited– I wonder if it's more tribute than plagiarism? Though wouldn't a more fitting tribute be to have his name on it, hmm?
Updated: We just read Marjorie Flick's Ping, followed by Sarah Garland's Going to Playschool in which the children are being read aloud from a book that is quite clearly Marjorie Flack's Ping. Amazing! What are the odds of these two books coming home from the library with us together?