December 17, 2010
Old picture books we love
In November we started going to the Lillian H. Smith Library, whose building is new but whose collection dates back to Gutenberg (or thereabouts). The highlight of this has been discovering new-to-us picture books that are decidedly not new to anyone else. I've been surprised at how many of these I've brought home have been wonderful, though I suspect their wonderfulness is the reason they're still lingering on library shelves. Timelessness is a tricky recipe, however, and I'm still not sure how it is concocted.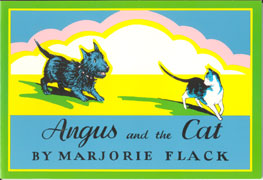 One writer who has managed it is Marjorie Flack, who has written the Angus books. Angus gets lost, finds some ducks, has an altercation with a cat. The milkman makes an appearance, so we know that we've gone back in time a little bit– these books were first published in the 1930s. But not so far back in time that the pages are dusty. Flack develops a fabulous momentum by having sentences continue onto the following page, she has great fun with all kinds of sounds, and poor little Angus is a just a tiny bit dumb that even Harriet can outsmart him– she liked the part where the cat was hiding behind the corner, Angus couldn't see it, but she could.
I picked Minou off the shelf, because it reminded me a bit of Madeline. Its author is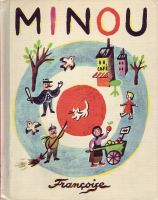 Francoise Seignobosc (1900-1961), who has a bit of biographical detail here. Minou is a small white cat who has gone missing, and the story is about the small girl who owns here going around Paris to ask if anyone has seen her Minou. This book went over particularly well, because we read it at the same time that Harriet had learned to hold out her outstretched hands and look longingly whenever she was searching for something. We look for Minou at the cheese shop, the newspaper stand, the barber, the bakery, and then (spoiler alert) we learn that Minou was last seen on a barge and she's gone off to travel the world. But we're assured that she'll soon come to Paris, because everybody does.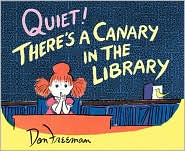 I have loved loved loved Don Freeman for my whole life (mostly because of Corduroy and Tilly Witch), but I had never read Quiet! There's a Canary in the Library. The story is mildly psychedelic and totally wonderful– a small girl called Cary goes to the library, and starts fantasizing that she has a library of her own, with a special day for animals to come visit. Everything starts out okay– the door is a bit wide for the elephant, the giraffe has to duck, but the lion behaves, and the monkeys stay in line, but when a bunch of mice sneak in because she's left the door open, things spiral out of control. Luckily, the canary saves the day, and Cary comes out of her fantasy with only a modicum of embarrassment. I loved it, and Harriet liked the animals, and I particularly loved the narrative mostly constructed of a wide variety of greetings, as one animal comes into the library after another– a useful lesson that's buried underneath a story that is lots of fun.