December 6, 2010
On reading independently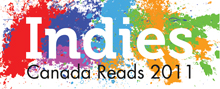 For me, the most fascinating thing about Canada Reads is how it's everything to everyone. For me, a  chance to pick up some obscure books I might just fall in love with; for others a chance to champion the books they've read already; for the more competitive among us, the fun of listening to panelists hash it out, employing nefarious strategies to ensure their own book's dominance. And it's interesting to me that the general vagueness with which Canada Reads Independently has been presented has brought forth much of the same variety of interpretations confusion.
There is one reason why Canada Reads Independently isn't a chance to exclusively showcase books published by independent presses: I don't think independent presses are in need of a special showcase. I thought a bit differently once upon a time, but I've evolved as a reader since then, plus I listened carefully when Biblioasis publisher Dan Wells once took me to task for segregation, and I realized that he was right. Independent presses in Canada are producing books every bit as good as, if not better than, in many cases, books being published by major publishing houses. This year's Giller shortlist (and long list even) was a testament to that, and now everybody knows. Independent presses are amazing, and this is hardly news.
What I do want to do with Canada Reads Independently, however, is choose panelists who are well-read enough to know what's going on in the CanLit scene beyond the Giller shortlist (whether that list happens to be indie-dominated or not), and I think I've done well with what we've come up with. Two books by indie presses, the CanLit stalwart is a book many of us haven't read, an out of print book by a vital (and underrated) contemporary author, and a book usually only read in grad school (which is not necessarily to appreciate).
So officially indie or not, I still think we're off the beaten track. Which is the very point of (my personal interpretation of) Canada Reads.