December 2, 2010
Wild Libraries I have known: Peterborough Public Library, Delafosse Branch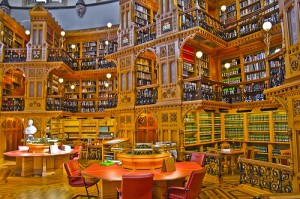 Things must have changed in Peterborough since I lived there last, because this morning I took a look at their website and discovered that they were open every day. This surprised me, because what I remember most about the Peterborough Public Library (in addition to the donut shop installed near the newspapers in the late 1990s) was the number of times I walked up the steps to the library only to discovered it was closed.
Now, in reality, the Peterborough Public Library's Delafosse Branch is up there with the moving sidewalk at the Spadina Subway Station, Ontario Place, and hope for the future– it's just another one of those things there used to be money for once upon a time. When I consulted the Peterborough Public Library website this morning, I discovered that the Delafosse Branch is only open fifteen hours a week, and I remember it being under threat of closure once or twice before. But no matter.
I have never ever visited the Peterborough Public Library, Delafosse Branch. However, with its exotic-sounding name, the illusion it gave of a library system with branches (multiple, instead of just one that was starved for funding), and the fact that my vision of it was never sullied by reality, the Delafosse Branch has become a stand-in for the library of my dreams. The Delafosse Library was open every day, and long into the night, had cozy fireplaces with nearby armchairs to curl up in, all the books in the Babysitters Club series, and the Anne books too. No one had drawn cartoon penises on its carrels, and the people who came in and slept all day on the study tables didn't smell like pee.
The staff were well-adjusted, only the male librarians had facial hair, overdue fines flew away with wings, and the lost books were always where you left them. The library stools never had footprints. If you studied there, you were guaranteed to get an A. They were always dying to hire you as a part-time shelver. Mis-shelved books were unheard of, and the computers never went down. There were terminals enough for everyone to check their email.  There was always a pen for you to borrow. They'd kept the card-catalogues in case anyone felt the urge to thumb through index cards, and many people did. Any book you needed you'd locate by climbing up a ladder, and the acoustics were such that though joy and laughter filled the place, no one ever had to say, "Shhh."