November 28, 2010
Canada Reads Indies Sneak Peek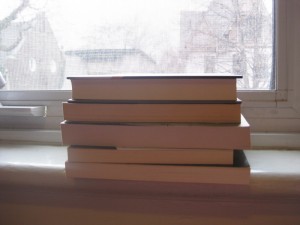 Canada Reads Independently is revealed on Wednesday, though I offer a (not particularly telling) sneak peek here. What a stack though, you'll just have to trust me. I am very excited, and pleased that my Fantasy Panel stepped up with such aplomb. I can't wait to read these books, and I do hope you're inspired to read a couple of them too.
The deal with Canada Reads Indies is this: last year, the CBC Canada Reads list disappointed me, so I lined up some bookish folks to choose me a new one. For me, most of the fun of Canada Reads has been less the week of radio debates, but rather the recommendations from out of the blue, and the reading of the books and discussions with other readers, and so that's what I focused on for the Indies. And though my list last year (and this year) did/do feature some independent presses, the "Independently" of my title is more about reading on my own terms (though I loved it very much when others joined me).
The rules are very lax– I keep asking for novels, and the panel keeps throwing up short stories, but that's all right with me because I love short stories anyway. If you want to take part, you can read all of the books or some, but please do get in touch with your responses (or links to your reviews posted elsewhere). I am going to start reading my five books in the new year, but you can get started any time. I will be finishing reading by the week of the CBC Canada Reads Broadcasts, and inviting readers to vote for their favourite of the five. I will also be following along with CBC Canada Reads and reading some of the books from their list, because it looks interesting this year. It's not so much that I have a problem with CBC Canada Reads as that I just love the whole idea and want to manipulate and monopolize it– surely you understand?
Anyway, I hope to be reading not so independently, and that the titles revealed on Wednesday pique your interest. Looking forward to plenty of bookish conversation and debate unfolding over the next few months.