November 16, 2010
Penny Dreadful by Laurel Snyder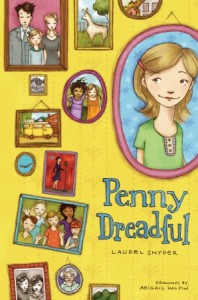 On the rare occasions I read YA, it will be a book I used to love, or a book that refers to books I used to love (such as A Wrinkle In Time, which was why I read Rebecca Stead's beautiful When You Reach Me). Of course, as Laurel Snyder's latest novel Penny Dreadful is brand new, I read it for the latter reason. On her blog she's posted a list of books loved by her protagonist, books referred to in the text– Emily of New Moon, Little Women, Betsy-Tacy etc. etc. And this gratuituous bookishness convinced me that this was a book I had to read.
I wasn't sold short– we learn on page 5 that Penelope has just finished an Anne of Green Gables book and is having trouble deciding what to read next. Later she wonders if a situation is like a disturbing book with an innocuous cover, "like Bridge to Terabithia". Penelope Gray's biggest problem is that her life is nothing like the characters in the books she devours, and she makes a wish that things could get more interesting…
And then they do, but not quite in the way she'd imagined. Through a series of events, her family ends up moving to a small town and encountering a cast of wacky characters, and what with all the wacky characters, a winding river, and the wishing well that started it all, Penny becomes assured of her place in the narrative that is her life. That she will find the hidden treasure after all, and save the day etc. Except that she's not a character in a book (except that she is a character in the book. Fun!), and has to learn that even if things don't work out to a perfect conclusion, life can still be okay.
Penny Dreadful is a timeless, lovely middle-grade novel with much bookish appeal. Made very rich by and a fitting tribute to the marvelous works it alludes to.