November 10, 2010
The kind of mother I wanted to be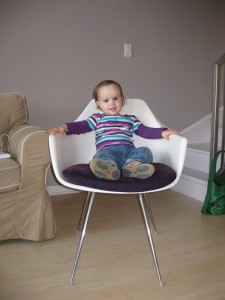 I've read two really excellent pieces on mothering blogs lately, the first being "I was a better mom before I had kids…" and then Her Bad Mother's "On Being a Good Mother In Spite of It All." Both play with the expectations we set for ourselves before we become parents, and what the reality turns out to be, and I think these kinds of discussions are useful actually, to a point. HBM rounds out her piece with the idea that trying to be a certain kind of mother when your heart's not in it isn't going to be good for anyone– for example, baby-wearing because you think you should, but your back is killing you and you hate it, or quitting work to stay home with the baby when it makes you miserable. She was writing in response to a recent article by Erica Jong about the ridiculousness of attachment parenting ("On the Madness of Modern Motherhood").
Now I am fortunate, because I came into parenting completely unaware that "attachment parenting" was even a thing. Or rather, I knew about it, but simply as one of the faddy things I learned about from reading Christina Hardyment's Dream Babies (along with Baby Whispering, and airing your child in a cage suspended from an apartment window). So my idea of the kind of mother I wanted to be didn't come with a doctrine. My parenting philosophy, if I have one (but I don't) has kind of grown up with me– for example, I learned that strollers are awkward in narrow Bloor Street shops and many places have steps, so I became a Baby Trekker convert (and we're at 28 lbs and still going). I learned that some nights the only way anyone in our house would get some sleep was if Harriet came to bed with me and so (I guess?) we became part-time co-sleepers. It has always been important to me to take responsibility for having brought a child into the world, thereby doing some extra laundry instead of contributing to landfill, so I am a bit of a cloth diaper fanatic. I still breastfeed, but was never able to pump, so Harriet had formula when I wasn't around. I don't buy plastic toys We don't own a car or a television, and I don't want to own either, and it has been important to me to learn how to be a parent without both of these things.
And so what I dislike about the discussions I noted is the way they descend into this bad-mother free-for-all. As if the very idea of using cloth diapers is laughable, or keeping small children away from television or limiting consumption . And I realize that a lot of this is very easy to say from the perspective of a mother of one, though I will point out that my belief in these ideas is part of the reason I am a mother of one (for now)– having one child is one of the reasons we're able to make things work for us the way we want to. But I just feel that sometimes we're all so busy congratulating ourselves for our honesty (like that a six month old got turned on to McDonalds. Really???) that we forget that some of these ideals are really sound ideas, and maybe the reason we feel guilty sometimes is that we should… Not because we let our children go out with dirty faces (see photo), or go out looking dumpy (also, see photo) of course, or lose our tempers etc. These are little things, they're silly things. But there are bigger issues at hand, and somehow they get swept into the same catagory of impossible things. Like motherhood is just a slippery slope, and we're all now looking up from the bottom.
I really am writing this now not to be a smug pain in the ass, but as reassurance for women who aren't moms yet but who have an idea about the kind of mothers they want to be. If that idea comes from an authentic place within you, if you're doing it because you want to and you believe in it (as opposed to the unsustainable arrangement derided by HBM of what you think you should be doing), then it's totally possible. Of course, half the equation is your baby, and all bets are off as to what he or she will decide, but I want to assert that motherhood as an institution does not necessary push you to the bottom of that slippery slope. You're exactly as indomitable as you feel.