November 8, 2010
On reading Anne Fadiman's Ex Libris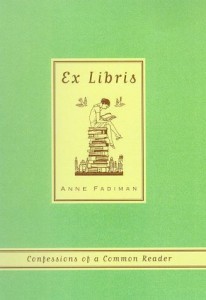 I realize I'm being startlingly unoriginal in loving Anne Fadiman's books of essays, not to mention about a decade late, but you see, I spent that decade entirely unaware that Anne Fadiman's books were in the world, and I now see it as my duty to deliver any other readers from such similar darkness.
I first encountered Fadiman in August when I took her book At Large and At Small: Familiar Essays away with me on vacation. Tragically, its adorable front cover was marred when I used it to kill a mosquito against a log wall, and I was determined that a similar fate would not befall the even more adorable cover of Fadiman's Ex Libris.
Ex Libris is a book of essays about books and reading, written with Fadiman's signature exuberance. Though her book's subtitle is an understatement; she is just about as "common" a reader as Virginia Woolf was. Fadiman's bookish cred is serious: her parents are both writers, she grew up in an apartment with 7000 books, her husband is a writer and the progress of their relationship can be traced by the dedications on the fly leaves of books they've given each other over the years. One of her essays begins, "When I was four, I liked to build castles with my father's pocket-sized, twenty-two volume set of Trollope."
Still, however, there is common ground between her and us, which is partly aspirational thinking on our part, but also the result of Fadiman's generous spirit. And she does have a knack of summing up experience just right: "I'd rather have a book, but in a pinch, I'll settle for a book of Water Pik instructions", she writes of her incessant need to always be reading something (which once a 1974 Toyota Corolla manual, twice, in an otherwise literature-barren motel room).
She writes hilariously about she and her husband eventually taking the plunge after some years of marriage, and finally deciding to merge their libraries, about the courtly and carnal approaches to how we mistreat our books, about gender and the evolution of language, compulsive copy-editing, and a wonderful essay about reading aloud with the perfect title: "Sharing the Mayhem." Some of the book's best bits feature her hapless husband, and her parents and brother who with her comprise a family like no other. A family that is an institution onto itself, with new word acquisition, literary references and allusions, and compulsive bookishness wholly integrated into everyday life– they are a fascinating window onto a world.
Anyway, I left this book on the kitchen table and something dripped on it, and there's also now a rip on its upper right edge, but none of this makes Ex Libris less than perfect still, really. And how lucky was I this weekend to be discovering it for the very first time– delight and joy and wonder abound. My life is richer for it.