November 7, 2010
A Fuzzy Realm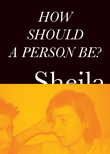 The fact was that I struggled with Sheila Heti's book, How Should a Person Be? About what it meant to call that book a novel, a novel that contains its author as a character, a book whose gratuitous sexuality I found more off-putting than titillating, a book that read like a punchline to a joke I'd missed hearing told. Though I engaged with the book on many levels, at various points jotting, "This is interesting…" in the margins, and throughout as I tried to understand what Heti's project was.
Part of the problem, I think, was that Heti came from a point of departure that didn't quite make sense to me. For instance, that the blow-job is the great art-form of our time, as the novel was to the 19th century. Or that "personality is just an invention of new media… characters exists from the outside alone". I think I'd also have trouble with any protagonist who remarks, "It would have been so easy to count the ways I'd been betrayed by girls… It was not that way with men." There are instances in the book where the protagonists' all-knowingness is subtly undermined enough, however, that I wondered if the glibness was more wry than I gave it credit for, but I was never really sure.
Throughout the book, however, I kept thinking of Joan Didion, not because she and Heti are at all similar, but because Didion's entire oeuvre seems to address a lot of the questions that Heti is posing. Didion who says that "We tell ourselves stories in order to live", with Heti eventually answering her own question with Didion's backwards: "A person lives by telling stories." Except that the stories Didion tells take her far outside herself, far from home. Whether through actual travel, engaging with different kinds of people, or other works of literature. Didion has this amazing way of telling other people's stories, but still making herself the centre. A strange, self-effaced blurry centre, but still the point everything else revolves around. And it's this blur that Heti will engage with.
In trying to answer, "How should a person be?", I can't help thinking that Sheila Heti should have just read Didion's essay, "On self-respect." The essay referencing a difficult time similar to that endured by Heti's protagonist, when "[one loses] the conviction that lights would always turn green." Says Didion, "Although to be driven back upon oneself is an uneasy affair at best, rather like trying to cross a border with borrowed credentials, it seems to me now the one condition necessary to the beginnings of real self-respect." And that self-respect stems from "character", which Heti has determined is a societal construction (but maybe she's being ironic? I don't know). Joan Didion, however, has no truck with that: "character– the willingness to accept responsibility for one's life."
Self-respect, according to Didion, is a kind of investment. It's not about never failing, never making mistakes, but rather knowing what you're getting into, meaning what you say and the things that you do. And this kind of thinking, she writes, requires "discipline, a habit of mind that can never be faked but can be developed, trained, coaxed forth"– that there is no magic pill for it, then, or book with all the answers,  or a drug that makes everything clear. Self-respect stems from knowing ourselves from the inside, keeps us from being "in thrall" to everything on the outside wherein, "At the mercy of those we cannot but hold in contempt [for if we don't respect ourselves, how do we respect those who associate with us?] we play roles doomed to failure before they are begun, each defeat generating fresh despair at the urgency of divining and meeting the next demand made upon us." Which is kind of the entire plot of How Should a Person Be?
Part of my problem with Heti's book is that some of her questions did make me uncomfortable– what it means to think we're important enough to be doing something important, or that any of us matter that much, and what that the stories we tell ourselves in order to live feature characters we've constructed with such tireless precision. Her honesty may have struck a nerve. But she places herself above reproach in a way that's really a bit dishonest– in making her art so much about her, we can't engage with it without engaging with her character, and as a reader, I'm not comfortable with the ethics of that. I'm not sure the material is so well served by existing a fuzzy realm somewhere between fact and fiction.
But maybe I'm missing the whole point– perhaps Sheila Heti never did really want to be the ideal of what a person should be. Perhaps in posing such a notion, she was really making a comment on our shallow, celebrity obsessed culture in which the blow-job is the ultimate art-form. And that in proclaiming the blow-job as the ultimate art-form, she is deriding a culture that might proclaim the blow-job to be the ultimate art-form, but I still don't really understand what she means by that, so you can see why I'm a little bit lost.