October 13, 2010
Vicious Circle reads: The True Deceiver by Tove Jansson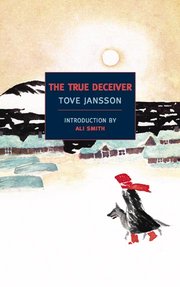 The Vicious Circle assembled in The Junction last night to talk about Tove Jansson's The True Deceiver. Some of us had read Jansson before, and copies of Fair Play and The Summer Book were passed around. Most us really liked this novel, one of us thought it was okay. Based on Jansson's photo in The Summer Book, we thought she resembled a Moomin a little bit. And then we talked about the Moomins, which none of us were really familiar with, but everyone we've overheard who is familiar had talked in terms that were only glowing.
One of us thought the prose was strange. Not bad, but just weird, but maybe it was the translation? It was noted that Thomas Teal had apparently kept his translation very close to the original. The narrator switched from first person to third person in a such a subtle way you could almost miss it, and this subtlely was the case with everything in the book. Was Katri narrating the third-person sections? We could argue either way. It's odd discussion a book where everything leads one in a circle.
Some of us really liked the shut-in, isolated, wintry, in-from-the-cold sense that abounded through the story. We wondered which of the two main characters had triumphed in the end– who was the "true deceiver"? Impossible to say, and we argued both ways (and then we ate some dops). We commented on the gaps in the prose, in the narrative– how oddly the perspectives were filtered. Very unconventional, and allowing for such surprising glimpses. We wondered where Katri's intentions had come from, what had gone on before the novel began. How had she garnered such respect in the village? What were her feelings for Edvard, and what had been the feeling she felt when she changed her mind about what she had told him. We speculated, but were never sure.
Katri was always questioning, doubting, second-guessing her own intentions. Was there good reason for this? Did she really believe in her own honesty, or was she just telling herself, and what's the difference? When she confesses to Anna at the end that she hadn't been cheated, is Katri confessing her own deceptions, or is she finally deceiving now having realized the consequences of her brutality.
We were fortunate to have a children's illustrator in our midst, and so we talked about Jansson's portrayal of Anna whose job was the same. The same as Jansson's too of course, and we note the games she played with autobiography in her works (this insight via Ali Smith in her wonderful introduction). Why did Anna stop drawing the rabbits, but it was suggested that the problem had been the rabbits' cutesiness, that with their flowers they were not honest. That after years and years of drawing the same thing, maybe Anna wanted to try something different. We remarked upon the incredible merchendization of cartoon characters, which led us to Hello Kitty douche.
Somewhere along here, off the rails, there was a joke about radial tires and blowjobs. We went and helped ourselves to more guacamole. Broke out the sweets– YUM: apple pie. The cats came and went as we chatted. Our numbers were fewer, as some of us were elsewhere preparing to give birth, or else working. We kept bringing it back to Tove though– what was it like to live in a small village? Lesbian undertones? And then we talked about Stieg Larrson. Among other things. And it was, unsurprisingly, a most wonderful evening.
Other Books mentioned during our meeting: