September 26, 2010
Books, I've had a few. Regrets? Not lately.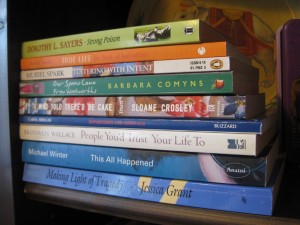 I went out by myself on Saturday m0rning to check out The Victoria College Book Sale (whose half-price Monday is tomorrow, for anyone who's interested). The plan, seeing as I have far more unread books that I have money, was to purchase a book or two, which was quite a different plan than in years past when I've purchased a book or twenty. Plan was also different than in the past, because I was attending on a full-price Saturday, having noticed in the past year or two that the Monday books are usually the same. And am I ever glad that I made the switch, because the books I came home with are absolutely wonderful, albeit slightly more numerous than two. ("But think of all the books I didn't buy," I pleaded as I walked in the door, so bookisly laden.)
Not one of the books I bought is aspirational and due just to collect dust on the shelf, or a book I'm unlikely to enjoy a great deal. I put much thought into my purchases, and just as much into the books I didn't buy, and I'm happy with what I settled upon. I am extremely excited to dig into each of these.
I got Strong Poison by Dorothy L. Sayers, because it's the Peter Wimsey novel that introduces Harriet Vane, and I've been led to expect fine things from it. I got True Lies by Mariko Tamaki, because she intrigues me and because it was radically mis-catalogued, and so it was fate that I found it at all. Next is Loitering with Intent by Muriel Spark, because reading The Comforters is only the beginning of my Muriel Spark career. Our Spoons Came From Woolworths by Barbara Comyns, which I know nothing about, except that a few other bloggers have read it, I like the title, and I'm fond of that Virago apple. Sloane Crosley I Was Told There Would Be Cake, because I can't get enough of essays, it comes well-recommended (and there's cake). Carol Shields' play Departures and Arrivals, because unread Carol Shields is a precious, precious thing. Bronwen Wallace's collection People You'd Trust Your Life To, just because it felt like the right book to buy. Michael Winter's This All Happened because it is shocking that I haven't read it yet. And finally, Jessica Grant's collection Making Light of Tragedy, because she wrote Come Thou Tortoise and I've heard this book is even better.
Can you believe that discretion was actually exercised? Unbelievable, I know. Less so was exercised today at the Word on the Street Festival, where I purchased a fantastic back issue of The New Quarterly (the quite rare Burning Rock Collective Issue 91), and the Giller-longlisted Lemon by Cordelia Strube. Harriet also got to peek through the Polka Dot Door, and meet Olivia the Pig, and there were also a lot of dogs and balloons, which are two of her favourite things.
In other remarkable this weekend news, someone who was neither Stuart nor me put Harriet to bed last night, because I'd blown the dust off my high heels for our friends Kim and Jon's wedding. We had the most wonderful time, not least because it was within walking distance (even in said high heels). The ceremony was lovely, the bride was stunning, groom was adoring, the venue was incredible (overlooking Philosopher's Walk, with a view of the city skyline), great company, delicious dinner, too much wine, and then we got to dance, and had so much fun looking ridiculous. We walked home after midnight happy and holding hands, and I could hardly detect an autumn chill while wearing Stuart's too-big-for-me jacket.