September 24, 2010
The Dead Politician's Society by Robin Spano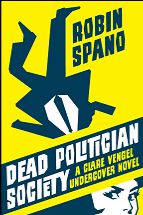 Somewhere along the line these last few years (and I suspect that Kate Atkinson could very well have something to do with it), I discovered, with great surprise, that I have an affinity for murder mysteries.  Crimes novels/detective fiction (and isn't there a difference between the two? I can never keep it straight, but look forward to PD James' Talking About Detective Fiction for a little clarification) are the only kind of "genre" that has ever won me over, and I think it's because these are novels that wear themselves on their sleeves. The same mechanics are present as in any novel, but their workings are much less subtle, and I think that when we revel in detective fiction that we are revelling in the novel in general.
Robin Spano's first novel Dead Politician Society comes from the less literary end of the spectrum, but kept me up at night in anticipation of discovering who did it, as all good detective fiction should. Her novel's chief delight is its campus setting, the University of Toronto in particular, and the story is enlivened by the actual streets its characters walk along, familiar views outside their windows, and detailed (but not obtrusive) geography.
Undercover policewoman Clare Vengel is on her first case, sent to infiltrate a secret society of idealistic political science students, and find out who's killing off local politicians one after another. The story is told from Clare's point of view, and that of others including students in the society, their charismatic professor, a newspaper obituarist who aspires to better things, and the dead mayor's ex-wife who wonders if her girlfriend could be behind the crimes.
The  novel comes with its problems, chiefly that while the bulk of the novel races by with deft (and fun!) plotting, it stumbles at its beginning and end. The former is perhaps from difficulty of establishing so many different points of view (which might have worked better had each chapter been more extensive? They were often so brief and chopped up the reading). The latter is particularly troubling, however, as a mystery's reveal  is its main draw, but this was one was something of an anti-climax– Spano's set-up had me  geared up for more.
That said, the novel was great fun, refreshingly irreverent, and unputdownable for the most part. Robin Spano has created some memorable characters, Clare Vengel in particular, who– with her wisecracking, motorcycling, chain smoking shamelessness– had an interesting challenge fitting in on campus. Dead Politician's Society is an amusing social satire, and also perhaps a timely read with municipal politics due to get a lot more heated and ridiculous in the weeks ahead.