September 20, 2010
The Sky is Falling by Caroline Adderson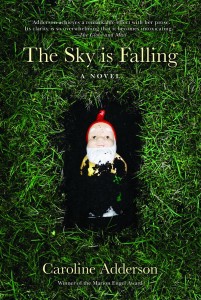 Caroline Adderson's wonderful The Sky is Falling will not be outsmarted. The novel, in which Doris Lessing's The Good Terrorist meets the short stories of Chekhov, is narrated by Jane Z., who opens the paper one morning to find a face she hasn't seen in twenty years. The face belongs to Sonia, once Jane's roommate, once a friend and possibly something more than that, and also a co-member of a movement campaigning for nuclear disarmament in the early 1980s. Sonia has just been freed from prison, after serving a twenty year sentence for a crime that will be the novel's climax. The narrative flips back and forth between 1984 and 2004, as Jane explains what happened to her and her friends, and how her past connects with the very different life she lives now.
This is a novel deftly composed of fragments and allusions, whose construction is remarkably assured for this, and yet there are these moments throughout where something slips– a certain detail, an incongruency, we know one thing and then we're told another–, and these moments take us outside the story for a moment. Poor editing, we can chalk it up to, and avid readers are encountering this kind of thing more and more these days.
And then. And then.
As I said already, Caroline Adderson's novel will not be outsmarted, there are no slips. How Pascal was said to be a friend of Dieter's, but Dieter doesn't even appear to know him, and it's not Adderson who's slipped up here, but Jane, and her remarkably limited, unfiltered perspective. Or rather, a perspective that's filtered solely through a lens of Chekhov stories and the Russian language she's studying in her second year at UBC, and the stories are more real to her than her life is. She's more of an agent in these stories, which she manipulates in her essays to suit her own political purposes, than she is in her own life where she is always on the periphery. She reads her life rather than lives it, and her readings are very often wrong.
Jane is the daughter of a Polish immigrant, she's a foreigner in Vancouver where she has come from Edmonton for university. After a year of living three buses away from the campus with her eccentric aunt, she wins a spot in a shared house because she's viewed as unthreatening enough to not steal somebody's boyfriend. Here, she meets Sonia and the other housemates, all of whom have their own reasons for political action (and Adderson should be commended for her treatment of this ensemble cast). For Sonia, it's a genuine desire to save the world (or perhaps to be the saver of the world, more particularly), and Adderson does a fine job of illustrating the heightened state of Cold War politics in 1984, with Star Wars, the Doomsday Clock, a rubber Ronald Reagan mask hanging by its eye-hole from a nail in the wall, and the Korean airliner that had been shot down by the Soviets the autumn before. To the insular group feeding off one another, all these were signs that the end was nigh, and to Jane, even more insulated within that insular group, it seemed her eyes were opening to reality for the very first time.
Twenty years away from all that, Jane is able to understand her own naivete– not necessarily that the end wasn't nigh, but that she had a chance of changing any of it. She is just as powerless now as mother to a teenage boy who she fears is slipping away from her– it's not his big leather boots she minds, or the piercings in his face, or his sullen friends, but that he's becoming a stranger to her. Though Jane's sympathy for teenagedom is admirable– Adderson has depicted the trappings of adolescence in a realistic way that would make Tabatha Southy proud. When Jane's son finally seems interested in his mother, it's only in her own surprising past, and Jane questions the ethics of using the allure of her past mistakes to connect with her son again. To what ends will he end up using her story?
The Sky is Falling is a great, smart and engaging novel that will appeal to Chekhov lovers, and make Chekhov seem appealing to the unconverted. Adderson's allusions do not burden the story, but they serve to illustrate Jane's lack of worldliness, and invest the whole novel with rich under-layers of meaning. The past and present strands of the story come together in a marvelously clever ending that both promises a brighter future, and also acknowledges that the thing about the future is that it's always just escaping one's grasp.