September 17, 2010
See you at Eden Mills!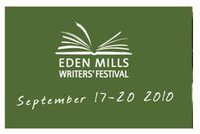 I will see you all at the Eden Mills Writers' Festival this weekend. Not quite sure when we'll be arriving, as we're still working out napping logistics, but I hope to catch Patricia Storms, Dionne Brand, Stephen Heighton, the Leon Rooke interview, Marthe Jocelyn and Karen Connelly. I also hope to buy a few books. I will be reading on the second Fringe Stage (3:30-4:30 at "Cottage"– I'm last up). Come say hi, please, and I will give you a pumpkin scone* from our picnic!
*While supplies last.