September 6, 2010
Among life's momentous acts of self-definition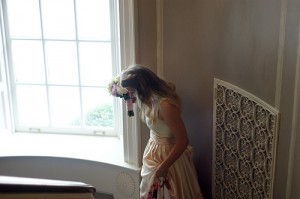 My (and everyone else who knows her's) beloved Kate got married yesterday to her just-as beloved Paul, in a ceremony that was probably the most lovely wedding ceremony I've ever attended. The bride was Kate, of course, which was part of the splendour, but she was Kate-ier than Kate even, in her flowing dress with the pink flowers, her beautiful golden hair, the perfection of her sun-kissed complexion, and the happiness she radiated. Her absolute faith and confidence in the wonderful man who'd just been made her husband, and I was overwhelmed at how rich their two lives are now that they are two lives together.
The sun came out for the ceremony, which began with the little people, the children of friends of Kate and Paul, who are generous enough to include them in the day. And though Harriet can walk  now, I opted to carry her just to make things simpler, but she held her own bouquet, which was her job basically done. Followed by families of the bride and groom, and finally everyone was there together in that beautiful garden, and the children were squawking, a plane flew overhead, and we heard a brief roll of thunder, but no storm came our way.
The readings were "Having a Coke with You" by Frank O'Hara, and then the following from "Goodridge Vs. Department of Health" by Massachusetts Supreme Court Chief Justice Margaret H. Marshall: "Marriage is a vital social institution. The exclusive commitment of two individuals to each other nurtures love and mutual support; it brings stability to our society. For those who choose to marry, and for their children, marriage provides an abundance of legal, financial, and social benefits. In return it imposes weighty legal, financial, and social obligations….Without question, civil marriage enhances the "welfare of the community." It is a "social institution of the highest importance." … Marriage also bestows enormous private and social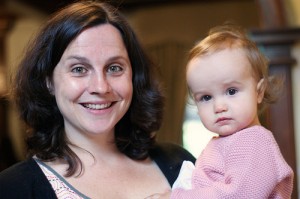 advantages on those who choose to marry. Civil marriage is at once a deeply personal commitment to another human being and a highly public celebration of the ideals of mutuality, companionship, intimacy, fidelity, and family…. Because it fulfils yearnings for security, safe haven, and connection that express our common humanity, civil marriage is an esteemed institution, and the decision whether and whom to marry is among life's momentous acts of self-definition."
After Kate and Paul agreed to keep on doing what they've been doing, but just to keep on doing it forever, everybody was treated to brunch inside. The food was fantastic, and the company was even better, including best friends and other friends who haven't been seen in some time. Our friends Erin and Rebecca had brought Harriet a wooden apple pie set (!!) which was so perfect, because nothing short of a brand new amazing toy would have kept Harriet playing happily through the meal and after, all the while she should have been having her nap.
For dessert, there was so much cake, a variety to choose from and we could pick more than one (and pink velvet was my favourite). And ice cream! And then Harriet made out with the ring-bearer, under the table cloth. I guess you pull out the wooden apple pie, and one thing just leads to another). This bodes well for Harriet, because the ring-bearer was two-and-a-half, dashingly handsome, and suggests she might end up better off than her parents, neither of whom anyone made out with until embarrassingly late in teenaged life, but anyway. It was funny.
And it was wonderful too, just to be there. To be called upon to witness this day in our friends' lives, and to celebrate them with them, and us with us. To celebrate love and to family and friendship, and how the lines begin to blur so these are all the same.
(Thanks go out to Erin for showing up with a camera whose battery wasn't dead).