September 2, 2010
Rereading A Memoir of Friendship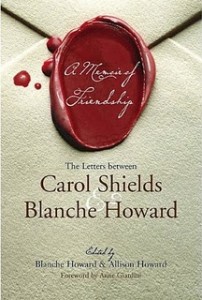 The first time I read this book, I read it in a hammock, which makes me despair a bit at how much life is changed since then. Because we've moved, of course, and (seriously) the tree that hammock was hung from has since been chopped down, plus there is the matter of Harriet who is the very opposite of hammocks.
The book is A Memoir of Friendship: The Letters Between Carol Shields and Blanche Howard, thirty years of correspondence between two writers (and wives, and mothers, and working women, and intellectuals, avid readers and dear friends). The first time I read it, it was with absolute joy, and I've been wanting to reread it for awhile since because I've read so many other books since and there will be all kinds of references I didn't get the first time around. I was interested to see what newness was there.
I don't know that I've ever loved rereading a book so much in my life. Even though I've only been reading it in dribs and drabs all summer long (usually while flossing and brushing my teeth, to be precise), because it's long and I also wanted to savour it. The book makes its reader privy to the workings of two sharp, curious minds, to the trajectory of two different writing careers (and reading careers), to the trajectory of life in general (getting old is terrible, unfair and unrelenting. This book makes no bones about it. I admire the candour.) Privy also to little bits of gossip, literary and political. To the books they loved and the books they loved less, and also the reviewers that made their blood boil. Reading this book,  one is privy to wisdom.
I made special note of the books Shields and Howard mutually appreciated, gushed over together, and have decided I want to make an effort to read this in the near future. They are:
The Home by Penelope Mortimer
The Odd Women by George Gissing
Parallel Lives: Five Victorian Marriages by Phyllis Rose
Anywhere But Here by Mona Simpson
Days and Nights in Calcutta by Clark Blaise and Bharati Mukherjee
Le Divorce by Diane Johnson
Mother Nature by Sarah Blaffer Hrdy
And though I'm not much of a crier when it comes to books, once again finishing this book had me weeping. I mean, so much so that it disturbed my daughter and she came over to try to make me laugh and deliver me a hug. To think of Shields dying and leaving a life and a world she so loved, and then to consider all those who loved her and would have to remake their lives without her. Somewhat selfishly, I also think of books unwritten. But I am also uplifted by a life that was so determinedly well-lived.