August 30, 2010
The Beauty of Humanity Movement by Camilla Gibb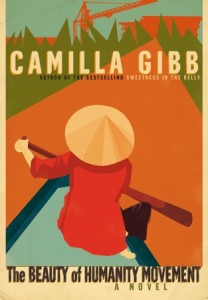 Camilla Gibb doesn't reinvent the novel in her latest The Beauty of Humanity Movement, but she challenges the limits of what a book can hold. Her book is packed full with the expansiveness of its story, its vividness of place, of history, its multiple points of view, and voices, and languages, and cultures, and art. Depicting humanity at its ugliest, and most beautiful, all very tidily in under 300 pages of gorgeous prose, The Beauty of Humanity Movement was absolutely a pleasure to read.
The book takes place in Hanoi, "the Vietnamese heart", the city from which was born pho: "a combination of the rice noodles that predominated after a thousand years of Chinese occupation and the taste for beef the Vietnamese acquired under the French".  In the city, Old Man Hung's pho is famous, its mere aroma bringing men to their knees. He'd had a shop years ago, but lost it when everything was nationalized, and these days couldn't afford the rents or the bribe money that would be required to even secure a lease.
Pho's shop had been a gathering place for radicals in the 1950s, when the Vietnamese people were rising up to overthrow their French oppressors. The artists and poets who'd met there had been part of The Beauty of Humanity Movement, which envisioned a glorious kind of socialism, and not one that merely replicated the tyranny that had come before it. Of course, this kind of vision is the sort that gets men in trouble, and eventually the authorities clamped down on their expression. Their leader, the poet Dao, was sent away to an appropriately-ominous-sounding "re-education camp", and he is never heard from again.
Two generations later, Dao's grandson is a young man with endless potential, in comparison with his parents who'd toiled for years in a ping-pong ball factory. Tu had become a math teacher, and then realized that loving math and teaching math are not synonymous experiences. He'd left his profession to give tours of Hanoi to Americans, and to pursue happiness in both the material and ideal senses. Though he is not so forward-looking– he reveres Hung, his family patriarch, who took over the role after Dao was lost, and kept the poet's memory alive for his descendants. And so Tu continues to visit Hung, who lives in a shack and serves his pho from a ramshackle cart, and who belongs to a older Vietnam that is quickly disappearing.
Gibb's narrative spins all these strands around a character called Maggie, Vietnam-born but American-raised. An art dealer and curator, she has come to Vietnam to find a trace of her father, an artist, who may have been part of Dao's movement. Everybody she speaks to tells her she should talk to Hung, but when she finally finds him, it seems the old man's memory is beginning to fail. He and Maggie work together to possibly recover some pieces of the abundance that was lost.
Though The Beauty of Humanity Movement is her fourth novel, in many ways it represents a sophomore effort for Gibb, an attempt to follow the "break-out success" of 2005's Sweetness in the Belly. Both novels are enriched by Gibb's background as an anthropologist, and manage to contain the stuff of culture but get bogged down by it– Gibb spins the stuff into story. And though this new book does not quite mesmerize in the way that Sweetness… did, that's a lot to ask of any book, and so I'll settle for just being glad that Camilla Gibb has written another wonderful novel.