August 29, 2010
A whole month more of summer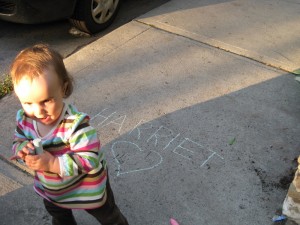 Though has been pointed out quite astutely, we've got almost a whole month more of summer left, and there aren't even squash at the market yet, but still, that this week contains September is just a little bit overwhelming. Mostly because summer has gone by in an instant (but oh, such a wonderful, beautiful instant, that completely made up for last summer that got lost with the newborn baby), and September promises to be just as quick.
Tomorrow I'm hosting an afternoon tea for the local members of the Barbara Pym Society, and I've spent tonight baking scones, and cake, and learning how to make egg salad. On Sunday, I've got a best friend getting married, and Harriet is going to be a flower girl. I think there's a free weekend in there somewhere, but that's followed by Eden Mills, and we've got another wedding the week after that.
I've got plenty of get-togethers planned for the weeks in between, including a pie-date with some fine bloggers. The Vicious Circle will be reading The Comforters by Muriel Spark. I'm going to be interviewing Alison Pick, author of Far To Go. Harriet has her calendar fairly busy with friends of hers to meet, and I imagine I'll be accompanying her on such outings. I'm going to read the new Jonathan Franzen. I'm going to finally go to the dentist (we've been between health insurers for a few months), and find out what's gone wrong with my gums. I'm going to finally finished this reading project which has been taking up so much of my time, and I can turn my attention back to rereading. I'm going to write a review of Camilla Gibb's latest novel, which I enjoyed very much and finished reading on Friday. I'm going to write blog posts about my feelings towards Mad Men, about whether an author's life should matter in how we read their work, about what Ray Smith has in common with Jennifer Weiner, a review of a Zsuzsi Gartner short story, and the story of  the time I got an OAP discount on a haircut when I was seventeen. And of course, I'll be up to other things. (Like fiction!)
But now I'm going to go to bed because I'm exhausted already.