August 9, 2010
Adventures in the land of (almost) no bookshops
So we made a major error when we went away on vacation, assuming that the second half of The News Where You Are, a magazine, and The Girl With the Dragon Tattoo would be books enough to tide Stuart over. It distinctly wasn't, and though he came to the end wanting to find that girl who played with fire, he said he'd be content with any book, and so we went searching. We spent a couple of hours in Bobcaygeon on Tuesday, where Stuart was generally irritable because The Tragically Hip had got his hopes up. In amongst many stores gone out of business, there was one bookshop, but it was so crap that my one purchase there was a wind chime. Not knowing then quite how much desperate times would call for desparate measures, we'd had the nerve to turn our noses up. (I had also been promised $30 Birkenstocks at Bigleys. We really did leave Bobcaygeon terribly disappointed).
The next day we went to Fenelon Falls, which had been pretty central to my childhood summers, and I was sad to see the main strip had become a bit bleak, with Canadian Tire and the grocery store moving into bigger stores on the outskirts, leaving a few (very) poor man's Bargain Harolds in their midsts. We thought maybe the grocery store might stock a novel or two, but they didn't, and they didn't even have good magazines. I kept driving up and down the one street in Fenelon Falls, willing a bookshop to appear, but one didn't and I was so sad. "What kind of town doesn't have a bookshop?" I kept railing, slapping the dashboard. "What does this say about us as a people?" Fed up with my melodrama, Stuart asked a passer-by if there was a bookshop. The woman shook her head, said we could try the library, but it was closed by now. Which made us even more depressed, because it was only 3:00.
"Maybe Coboconk has a bookshop?" I wondered, which is when you know you're really desperate. At the very least, we thought it might have a Shopper's Drug Mart, which does stock mass-market paperbacks. So we drove into town, and noted they had a Rona AND a Home Hardware, but no bookshop. So we turned around to go back where we'd come, when Stuart noticed a dilapidated warehouse with a sign that said, "BOOKS!". It was one of those places that sold liquidation stock, with other signs including, "WINDOWS!", "TIRES!" and "FIREWORKS!". Not holding out a great deal of hope, we stopped and went in. They had a toilet seat section. The books section was totally bizarre though, comprising mainly horrid romance novels and study guides for 19th century classic novels. There was a massive stack of a book about Grace Paley's short stories. There were three copies of the Louise Fitzhugh biography for $2 each. Of the lot, we found one novel which Stuart might have contemplated reading not under duress (or even reading for pleasure) and it was Watchman by Ian Rankin, so we bought it for a grand six bucks.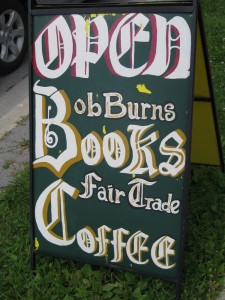 That night, back at the cottage, I was recounting our adventures, and somebody said to me, "Why didn't you just go to Bob's?" Which, apparently, is Fenelon Falls' great used bookshop, across the road from the library even. A few blocks off the main strip, around the corner from the LCBO, and Fenelon Falls grew eight sizes bigger in my estimation at that moment. The world was a less bleak place, where the crap books aren't always on sale with the toilet seats. (We also phoned my mom, and asked her to bring up the next Steig Larsson when she came).
We went to Bob's on Friday, which is actually Bob Burns' Books, and it was everything I'd been promised. Big and bustling, stocked with cottagey tomes, yellow paperbacks in alpha-order, but also a wonderful selection of literature, and children's books, and plays and poetry, and coffee. I wanted to kiss the ground it stood on, or at the very least its floor, but I didn't. Instead, I bought The Guy Not Taken by Jennifer Weiner, because I am enamoured of commercial fiction short story collections, and The Slap by Christos Tsiolkas, because I'd heard him on the CBC the week before and it sounded interesting. Though I read now that the book might be misogynistic, and that India Knight hates it, so it's probably not my usual thing, but should make for something interesting.