August 8, 2010
Not glad to get home at all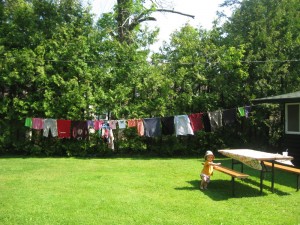 Interestingly, this last week of going along, listening to all the things we couldn't hear and not bothering turned out to be quite monumental. During our escape to the wilds of The Kawarthas, Harriet learned to walk, learned to dance, and made her first friend, who was called Izzy and is two. (Harriet has other friends, but I have for the most part projected these friendships upon her, whereas Izzy was friended independently. Harriet was totally in love, they hugged each other good-bye at the end of the week.)
Stuart and I spent a week without the internet, and enjoyed ourselves thoroughly, in particular our games of Scrabble on the porch in the evenings. We were both unsurprised to come home and discover we'd missed not much at all while we were away.
And to my great benefit, Stuart started reading Stieg Larsson en vacance, which meant that for a few days my husband loved reading just as much as I did. This was how I managed to get almost five books read during Harriet's naptimes (which were made expansive by her running around like a wild animal when out of doors, and thus becoming exhausted). It also led to some book-buying adventures, which I'll be recounting here in coming days.
It was a wonderful week, everything we wanted and needed, and also full of corn-on-the-cob and fresh peach pie. And no matter how often we swept the floor, there was sand underfoot, and there was sand in the shower, and on the table, and finally throughout the bed, so we were glad to get home and lose the grit. But other than that I really don't think we were so glad to get home at all.