July 26, 2010
Fly Away Home by Jennifer Weiner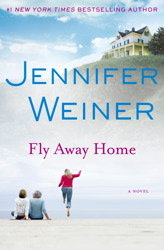 Jennifer Weiner's latest novel Fly Away Home is no guilty pleasure. Of course, it's a pleasure, and maybe for that we're meant to feel a bit guilty, but I didn't really. I was too happy reading a fat book that was devourable, a funny and smart book that was so well written that it never broke the spell.
Weiner is a more versatile writer than she gets credit for. Though she's well known for writing books with shoes in the cover, I really enjoyed her murder mystery Goodnight Nobody, and her latest is also something completely different. Less Sophie Kinsella, Fly Away Home made me think of two recent novels I loved, The Believers by Zoe Heller and Curtis Sittenfeld's American Wife. But set apart from these with the dry wit and breezy tone that have become Weiner's signature.
So much of women's fiction begins with a question of empathy, of an author wondering their way into a particular character's mind (as opposed to wondering their way into a fast-paced plot, just say). In Fly Away Home, that character is a familiar figure, the wronged wife standing up beside her prominent husband as he tells the nation that he's sorry for his transgressions. She's standing there stone-faced as he admits to hurting his wife, his family, and as he vows to come to terms with his weaknesses, to make amends. As he asks for a bit of privacy, so he can calculate his eventual comeback.
That woman is Sylvie Serfer Woodruff in Weiner's book, wife of Senator Richard Woodruff who has just been caught using his connections to fix a job for his mistress. Sylvie hadn't suspected a thing, so busy was she fulfilling speaking engagements to support him, arranging his schedule, fetching his breakfast, and running the lint brush over his shoulders. Not to mention trying to stay twenty pounds lighter than she'd been in law school, getting her hair done, having regular botox sessions, and occasional plastic surgeries. In her spare time, she tried to contain their daughter Lizzie, who struggled with addiction and a host of other personal problems.
Lizzie's sister Diana had always been the polar opposite, struggling with nothing, racking up one achievement after another to become an emergency room doctor. The news of their father's affair comes at a curious time for Diana however, with her being in the throes of an extra-marital affair herself, with an intern from the hospital who's everything her husband isn't. (The husband is one of the funniest parts of the novel, Weiner pulling no punches in depicting his unattractiveness. Gary likes to announce, "Gotta go drain the dragon" before he uses the restroom; he comments on Youtube videos with the username Ithurtswhenipee. Their sex life is awful, usually culminating in Gary masturbating "with the burdened expression of a man who'd been forced to shovel the driveway just when the game was getting good".)
Richard Woodruff is moved to the margins as the rest of his family attempt to put their shattered worlds back together again. Sylvie returns to her childhood home to reconnect with a self she hasn't paid attention to in years, Lizzie finds her life assuming an unexpected direction, and Diana decides that her own direction should shift 180 degrees. In the end, things tie up neat and tidily in true commercial fiction style, but it's a wonderful ride to get there, and no one would ever fault these characters for their packaged resolutions.
"'What?' Selma asked. 'Divorce isn't such a tragedy…. Nobody ever died of divorce.'/ 'Sunny von Bulow?' Ceil piped up./ 'They never got divorced,' Selma said. Sylvie glared at her mother, and Selma lowered her voice incrementally. 'Claus just tried to kill her. See, if they'd gotten divorced, it could have worked out better for both of them.'"
Flay Away Home is a funny book, and such a smart book, with no holds barred. A trip inside the mind of that stone-faced lady, and the reader comes away with a broadened perspective of what her experience must be. And a broadened perspective also of questions of love, and marriage, and family, and what it means to truly get lost inside a book.