July 19, 2010
Want to get your hands on?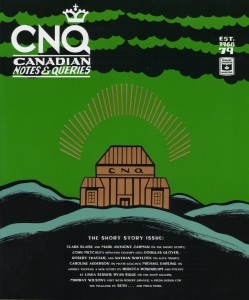 There is no way I can describe to you how much I was enjoying reading CNQ 79 this morning, sipping a splendid cup of tea with the morning breeze drifting in through the window. And not just because it's the first day in recent memory that nobody local has been operating a sledgehammer or chainsaw outside, nope. It's because the magazine reads as good as it looks. My favourite kind of writing– critics passionately advocating for the work they love best, and for the short story form in general and particular. Reading the pieces that opened the magazine, I felt so inspired, excited, and lucky to be reading in a time in which, however much the form is maligned, incredible short stories keep getting written. (And celebrated).
Due to clerical error, however, I have ended up with two copies of this magazine. If you live in Canada and would like me to mail you my spare, please email me at klclare AT gmail DOT com and tell me the title of your favourite short story. I'll pick a response at random this weekend. Good luck!