July 18, 2010
Rereading Still Life With Woodpecker by Tom Robbins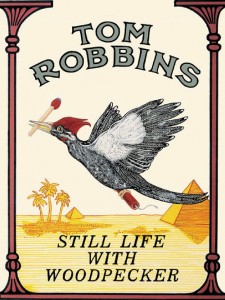 I'll start with the fact that makes me want to die the least (honestly): I used to claim that all the wonderment of literature in general was contained within this one book, and if it was the only book left on earth, all the best things about literature would still remain. I am very glad I never was made to prove this.
And then that I used to have a framed pack of Camel cigarettes hanging on my wall. I believed that it contained all the secrets of the universe, and would inspire me to be the kind of person I wanted to be.
That my copy of this book bears a heartfelt message from a boy who says he loves me. Which is really sweet, unless you know that I encountered him in an internet chatroom one day when I was very bored in 1999, and that we never met. (Though we did used to have discussions about how to make love stay, both agreeing ardently that when the mystery of the connection goes, love goes. However, we never did address how exactly the mystery of connection applies to two people who've never met.)
I think I'm less embarrassed about all that, however, than I am about the numerous lines throughout the text that I underlined in purple ink, in particular, "Me? I stand for uncertainty, insecurity, surprise, disorder, unlawfulness, bad taste, fun and things that go boom in the night." Seriously, why did that speak to me? Because I only ever underlined things in purple ink if they resonated with my deepest being, but no one has ever stood for those things less than I do. Except bad taste. I think maybe it was aspirational…
So there are many ways to begin explaining just how much rereading Still Life With Woodpecker was an exercise in embarrassment. (And I reread this as part of Mark Sampson's Retro Reading Challenge, I'll have you know, of which embarrassment was sort of the point, but still, this must be unprecedented) I will explain that when I encountered this book, I was twenty years old and very bored, and that I was just contemplating turning my world upside down for the very first time. (The other line I fervently underlined during this period was from Tom Stoppard's Arcadia [which I still love] which is: "This is the best time possible to be alive. When everything you know is wrong").
Still Life… is the story of Leigh-Cheri, an exiled princess/all-American girl (like Anne Hathaway, but with more of a tendency toward unwanted pregnancies) who falls in love with a terrorist (and this was back when terrorism was still homey, domestic and romantic). Bernard is an "outlaw", outside the law in every sense, except that he gets thrown back in jail, the couple drifts apart, her Arab fiance builds her a pyramid, the couple is reunited, and owe everything to a stick of dynamite. Bernard teaches Leigh-Cheri how to really be free, that love is crazy barking at the moon, that the moon is everything (including birth control), that sometimes you've got to throw caution to the wind, and blow a bunch of shit up.
When I read this book the first time, it gave me license to imagine I could live the kind of life I'd imagined. It made me feel more confident about going boldly forth, and making mistakes, and blowing shit up, and breaking the rules, and though I never did any of these things terribly prolifically (apart from the second), I am glad I learned these lessons when I was twenty years old. My life could possibly have been different otherwise, but I am not so sure I owe it as much to the Camel pack as I thought I did.
Rereading this book at 31, I see how far I've come, and how my literary judgement has sharpened, because the book is terrible. My political judgement has sharpened also– the Woodpecker is an anti-feminist, libertarian, but I would have noticed neither of these details then. Robbins' prose is an orgy of play, but his language means nothing beyond its frippery, and it's not even that funny– the only time I laughed out loud was when somebody sat on a chihuahua. I was bored reading most of it, and so bored out of my head by the end that I was only skimming. The sex was awful and gross, and not remotely sexy. The vagina euphemisms were totally disgusting, and I'm not sure why that didn't put me off first time through.
I'm glad I reread it though– there were sparks of how brilliant I used to think it was. I don't know if I'd ever read anything that interesting before, and it might have liberated me as a reader in the same way it did in a more general sense. And I wasn't wholly cynical about its message. Even now, the idea of having CHOICE guide one's life is very important to me: "To refuse to passively accept what we've been handed by nature or society, but to choose for ourselves. CHOICE. That's the difference between emptiness and substance, between a life actually lived and a wimpy shadow cast on an office wall." Rock on Tom!
Kind of inspiring, but not quite worth the 252 pages it took to get there.