July 11, 2010
Rereading Slouching Towards Bethlehem for the fifth time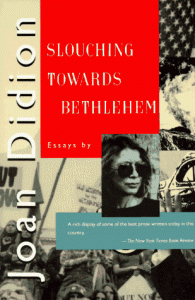 Rereading Slouching Towards Bethlehem for the fifth time, and it's full of moments. First, my own moments– cracking the book open for the first time six years ago on a tram enroute to Miyajima, reading it again in 2008 after having been to California, that same rereading and the line from "On Keeping a Notebook", "because I wanted a baby and did not then have one", and rereading it again with the baby asleep in her room. It is like keeping a notebook, all the secrets this book holds about who I used to be, and it's a different journey every time.
It's curious that this is a book I can't stop reading, a book that I long for when we're parted too long. Because I like novels so very much, but this book of essays speaks to me in a way few novels ever have. Lucille Maxwell Miller and her volkswagen, and the fact of a man called Arthwell Hayton (who went on to marry the au pair, of course). The title essay, and a derailed social movement that Didion puts down to inarticulacy. The way she writes, the repitition and the cadences– her prose is music. Hypnotic. She describes "people of character", which is a term we hear even less than when she hardly ever heard it anymore. "You see I want to be quite obstinate about insisting that we have no way of knowing– beyond that fundamental loyalty to the social code– what is "right" and what is "wrong", what is "good" and what is "evil""– which underlines everything she writes, how she appears to just let the pieces fall where they may, her facts and stories speak for themselves, and they do. She's the most uninstrusive omniscient narrator I've ever encountered.
And oh, she's cool. Her California (you should read her memoir Where I Was From), and her Hawaii, where she is sent to in this book not in lieu of a divorce, but because she was a "recalcitrant thirty-one-year-old child" (as am I!). How she cried in Chinese laundries, and her golden curtains flew out the  window and got drenched in the rain, and how the maid sulks when the wind blows (doesn't she just?). The helicopter dropping the morning paper off on Alcatraz, and how she went to the grocery store in her bikini. And she spins and she spins and she spins– what a master.
I remember reading this book for the first time, and how it was nothing like what I had thought it would be, and how it was harder. To follow the circles of her arguments, to grasp the ungraspable (that things fall apart, the centre cannot hold). I remember how every time I read this book, I discover something new, and how it's always summer. ("I imagine, in other words, that the notebook is about other people. But of course it is not.")