June 24, 2010
Pssst… today is my birthday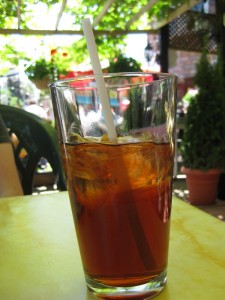 Pssst…. today is my birthday. Which has made clear how far a body can come in a year. Because last year was my thirtieth birthday, and it was terrible. I had a four week old baby who had screamed all night the night before, my husband was so busy picking up the pieces of me that he didn't have much time to orchestrate birthday celebrations, and my computer had just crashed taking with it five years of everything on that precious hard-drive.
The evening was better– Stuart went shopping on his lunch break and came home with some wonderful presents, including a beautiful sundress to cloak the postpartum frump. My sister and best friend were here for a bbq dinner, and Harriet bestowed me with two wonderful gifts– about twenty minutes during which she was awake and not crying (and this was so exciting! We all just gathered around to watch her be), and then she fell asleep and we ate our dinner without Harriet-juggling for the first time since her birth. I also drank beer. But still, it wasn't the best day.
Today however, my thirty-first, in spite of earthquakes and tornadoes the day before, has been so far without calamity. I got croissants and jam in bed, and wonderful presents (including the beautiful Changing My Mind by Zadie Smith, and Sarah Harmer's new CD which is a wonderful birthday morning soundtrack). Opened a lovely stack of cards for me this morning, a few of which were delightfully bookish. I'm going to drop over to my friend Bronwyn's for a cup of tea this afternoon, and we're having Thai take-out and a Dairy Queen Treatza Pizza for dinner tonight (and did you know they've been discontinued in the US? I never realized before just how fortunate I am to be Canadian).
Anyway, Harriet been occupied unpacking my new Body Shop satsuma gift pack, but I've just noticed teethmarks in the soapbar. I will turn my attention back to her then (and note that she's now crying because I won't give it back to her for another bite). So we will go and play, and she'll get up to all her new tricks– showing me her belly button, pretending to talk on the phone, offering a cup of tea to Miffy, showing me my bellybutton, sucking on my nose, and a good old game of plush-ball catch.