June 13, 2010
Wolf Hall by Hilary Mantel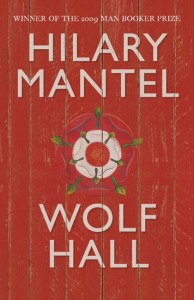 Everything I knew about Henry VIII before Wolf Hall, I learned from Herman's Hermits. And I'd planned to keep it that way, because I really can't stomach historical fiction. Even when it's written by Hilary Mantel, who I've read through suburban black comedies, ghost stories, memoirs and literary fiction (my two favourites of hers have been Eight Months of Ghazzah Street, A Change of Climate, and An Experiment in Love).
But then Wolf Hall won the Booker Prize, and it was nominated for the Orange Prize. And something else happened, though I don't remember what Steph read it at Crooked House and included an excerpt as part of her babies in literature series, but it all led to me purchasing Wolf Hall when we were in England last fall. The book sat on my shelf for months and months, however, until I decided to tackle (most of) the Orange list, and so last Friday, I finally cracked the great tome (650 pages) open.
Once in a while I tried to remember why exactly I so disliked historical fiction, particularly since I never actually read any of it, but reading Wolf Hall did make my feelings quite clear to me. That the genre necessitates 650 page books, for one thing. In non-historical fiction, wouldn't an editor do something about a book in which all of the major male characters are called Thomas or Henry? And a pace that goes so quickly, too quickly, and then you find yourself having to refer back to earlier passages, but how is one to find these in a 650 page book??
But, Wolf Hall was readable. It was. I was mainly reading it so I could finally say I actually had, but I found myself enjoying it too. It's not an easy book, with so many characters and such a dense plot, and Mantel's prose is not always immediately accessible (and yes, the pronouns were a struggle, but there's a reason for it. "He" is usually always Thomas Cromwell, to show that Cromwell was everywhere.) But the story, about Cromwell's rise and rise from lowly blacksmiths' son to chief advisor to the King of England was fascinating, and Mantel has made Cromwell a complex, sympathetic and wonderfully-difficult character.
I didn't really understand how fascinating this novel was, however, until I reread its review from the London Review of Books (which I'd read when it was published, but got nothing out of having not yet read the book, of course). The review explains that Mantel's real genius is rendering a three-dimensional character of Cromwell, about whom little is known, and allowing his mystery to remain fundamental to him. And that nothing within her novel is without significance, in fact more often than not, peripheral characters and details would go on to be instrumental in historical events to follow, though this significance is only hinted at in the novel (and then glossed over entirely by readers such as myself for whom Henry VIII had merely been married to the widow next door, and she'd been married seven times before…). Even the novel's title Wolf Hall refers to a place only barely mentioned in the story, and the suggestion of a visit there comes in the very last paragraph (and here, according to the LRB review, would begin "the undoing of Anne Bolelyn").
I recently read that Mantel is at work  on a sequel to Wolf Hall, and now I'm quite stunned to find that I'll not be able to help but to read it. Because the whole 650 pages here was merely in anticipation of what comes next, and what comes next is the rise of Jane Seymour, who was a lowly lady-in-waiting in this book, and the downfall of the Bolelyns, and even (though a few years beyond this) Elizabeth I (who here is just an ugly red-headed baby). To discover that Spanish Mary (in Wolf Hall, petulant, teenaged, and put-out by having just been made a retroactive bastard) becomes Queen herself somewhere down the line– seriously, these are the most tantalizing spoilers ever.
You couldn't make this stuff up.