June 8, 2010
On magazines
Charlotte's post about magazines has inspired me to copy her (and has also introduced me to the The Devil's Artisan, which has very much piqued my interest). I too love magazines, and though the stack of those to-be-read has never recovered from Harriet's early months, and I fear I will be months behind until the end of my days, I continue to renew my subscriptions and look forward t0 each day that I find one waiting in my mailbox.
Magazines I subscribe to:
I'll admit it– if you publish my stories, I'll be loyal to you, but that's not half the reason why I'm partial to TNQ. As I posted recently, "TNQ is fiction, poetry, features, art, profiles, creative non-fiction and more. TNQ is never the same, but always gorgeously produced, the work is always thoughtful and interesting, containing stories that have absolutely blown my mind. I read Alison Pick for the first time there, and Carrie Snyder, and Terry Griggs, and Amy Jones, and Zsuszi Gartner. I love the "Magazine as Muse" section. The Editor's letters are always a pleasure to read, and full of treasures themselves. In short, four times a year, TNQ comes into my world and makes it a better place."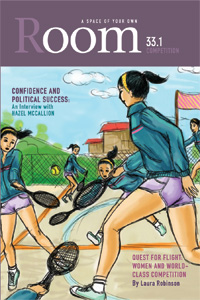 Room:
Room (formerly A Room of  One's Own, which I still think was a fine name and I kind of wish they hadn't changed it) does a fantastic job with supporting and promoting new writers, and publishing them alongside amazing work by established ones, and for the most part, this balance works well. They're a feminist magazine run by a volunteer collective whose diversity is reflected in the magazine's content. Each issue is linked by a theme, however loosely, and I also appreciate range of forms they publish– short stories, poetry, interviews, reviews, and profiles of readers. It makes for a good read, and, like TNQ, they have good editors' letters as well.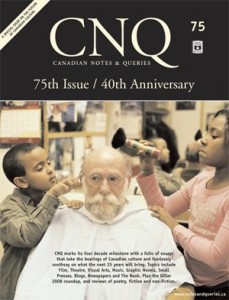 Canadian Notes and Queries:
Oh, the learning at your fingertips in an issue of CNQ. I'll be honest– the content is a bit hit-and-miss in terms of appealing to me, and I didn't really read the last issue,but I've loved pretty much every other issue of CNQ that's come to me over the past three years. I enjoy the ongoing MacSkimming series of interviews on the history of Canadian publishing, their focus on the bookselling climate, their issue on translation was incredible, the best articles are challenging and interesting even when I disagree with the point of view. It's also a really beautifully designed magazine.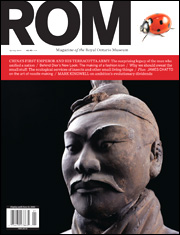 ROM Magazine:
We get this one automatically as part of our museum membership, and I don't read it cover-to-cover, but I still love it. The recent redesign has been absolutely beautiful, I like Mark Kingwell's columns, and thanks to this magazine I know all kinds of bizarre facts about ladybugs, bats and the dead sea scrolls.
London Review of Books:
I started subscribing to this one through a twofer subscription deal my friend had. A genius idea, because this periodical is a bit addicting, and of course, once I started, I really couldn't stop. I used to try to read everything, but now only pick out articles that will hold my interest, which means I don't read as much about economics and Afghanistan as I once did, which is a shame because the articles are amazing. But they're also loooooong and the print is every small, and if I read everything I wanted to in the LRB, there would be no time for books. There is always time for Andrew O'Hagan, Alan Bennett, Jenny Diski and Anne Enright, however. And scathing reviews that are brilliant rather than bitter.
Chatelaine:
What happened? One minute, I was too cool for Chatelaine, and now I'm way too much of a Mum. The new issue wasn't even worthy of being a coaster on my coffee table. Tonight I ate a dip that was from that issue, however, and it was good, but I'm still not convinced. I miss Katrina Onstad (who yes, was the best thing they had going), and the recipes (which have become my staples. What will I cook without them?) were lacking, and there was nothing interesting in the entire issue. I've been a pretty happy subscriber for the past two years, but I think my Chatelaine days are done.
Magazines I don't subscribe to:
Walrus: I waited and waited for them to start publishing women writers, not merely on principle, but because a general interest magazine written by only men is not generally interesting. I even sent a letter asking the editor why publishing women writers was not important to him, and I got zero reply, not even a form. I no longer subscribe, and though the contributers seem a but more mixed lately, I still don't think I'm missing much.
Magazines I would subscibe to were my life a better place:
The New Yorker: If I subscribed to this magazine, my stack of unread issues would grow so high that I would have to jump off the top and kill myself. But I wish it didn't have to be that way– if only there were more days in the week, and I had nothing else to do but read it. Because The New Yorker is fantastic, I admire the stamina of its subscribers.
The Believer: I love this magazine, and it's lovely, but very expensive, and so are a lot of other things.