June 2, 2010
No kids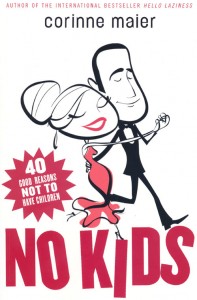 I was never brave enough to read this book before, particularly not in the past year during which I could have written this book myself 300 times over, but now that I'm pretty sure I could think of reasons to counter each of Corinne Maier's 40 reasons not to have children, I feel ready to take it on. Certainly, Maier knows what she's talking about, being a mother herself, and it will be interesting to reflect upon whether or not her reasons are valid. And why, even with there being at least 40 reasons not to have children, people keep having them anyway.
Don't worry, this was a library book. But I did stop into Ten Editions to buy We Have Always Lived in the Castle by Shirley Jackson, because The Vicious Circle is going to be reading it at some point. And then I also had to get Victoria Glendinning's biography of Elizabeth Bowen, as I loved her The House in Paris when I read it last autumn (upon the recommendation of Susan Hill). I wasn't planning on the second book, but there it was on display, and I just couldn't help myself. Of course. And I actually saved money, when you consider all the books in the store I didn't buy.
It was basically the same as a paycheque.